Mikey Cook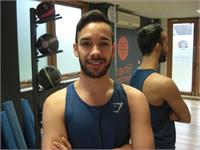 Exercise with Mikey will always make you smile! He loves the environment created by people sharing the same goals and enjoying themselves whilst doing it.

Qualifications:
• Gravity Foundation course
• BA Dance and Fitness
• Level 3 Personal Trainer
• BTB Instructor
• Pole Fitness Instructor
Expertise:
• Resistance training
• Circuit training
• Functional exercise and movement
• Dance fitness
• Aerial and suspension training
What I love about working in this industry:
It is the most rewarding experience when you have an impact on someone's lifestyle, changing their outlook and attitude on exercise for the better.
Words of wisdom for clients:
If you don't enjoy it then find something different. Exercise should not be a chore.
Guilty pleasure:
I'm a bit of a geek when it comes to computer games. Especially Pokemon.
Favourite place:
Club La Santa Sport. One of the greatest places to exercise and get a bit of R'n'R too!
Mikey Cook instructs the following:
The Barre fusion programme is a combination of the traditional ballet barre exercises, used to warm up the muscles, and increase strength and flexibility, added to a standing workout, designed to elevate your heart rate as it tones the upper body, buttocks, legs and core. The combination will help to scuplt a well-toned body that is long, stong and lean! No previous ballet knowledge is required. Suitable for all fitness levels.




This is a fun, fast paced, high energy session which has quick changeovers from exercise to exercise, keeping the heart rate up to maximise time efficiency. If you like to sweat then this is a class for you!




A sixty minute class incorporates low impact cardio moves to build endurance and fat burning using high energy resistance training to improve muscle strength and definition whilst still working with the barre for alignment and posture. This total body workout uses ballet techniques as well as strength training methods using bodyweight bands and weighted balls. Suitable for all ages and abilities.




This is all about the abs and the bottoms! The class uses many different training methods on the Total Gym to get both areas working and looking good. Great for core stability, balance and strength!




This is a fast paced indoor cycling class to burn calories, challenge, strength legs and glutes. Making cardio fun!