Candy Cox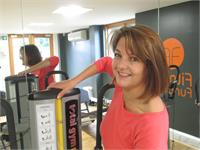 Candy's background is in dance, so she brings an element of poise, focus and fun to all her classes.
She loves building a client's confidence over a series of sessions and enjoys helping them make the changes that they desire. To Candy, if you believe you can do it then you can!
Qualifications
• Teaching certificate with the Royal Academy of Dance, the National Association of Teachers of Dancing and Imperial Society of Teachers of Dance
• BA (Hons) Performing Arts
• Beginners Mat certification in Pilates Mind2Body
• Gravity Foundation course
Expertise
• Pilates, from a dancers perspective
• Core conditioning
• Posture
• Functional movement
Words of wisdom for clients: Stick with it! The only bad session is the one you didn't turn up for!
Favourite exercise: Anything involving legs.
Favourite place: At the dining table on a Sunday lunchtime with all the family.
Candy Cox instructs the following:
The Barre fusion programme is a combination of the traditional ballet barre exercises, used to warm up the muscles, and increase strength and flexibility, added to a standing workout, designed to elevate your heart rate as it tones the upper body, buttocks, legs and core. The combination will help to scuplt a well-toned body that is long, stong and lean! No previous ballet knowledge is required. Suitable for all fitness levels.