Candy Barker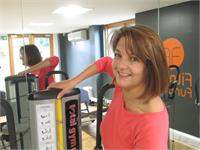 Candy's background is in dance, so she brings an element of poise, focus and fun to all her classes.
She loves building a client's confidence over a series of sessions and enjoys helping them make the changes that they desire. To Candy, if you believe you can do it then you can!
Qualifications:
Teaching certificate with the Royal Academy of Dance, the National Association of Teachers of Dancing and Imperial Society of Teachers of Dance

BA (Hons) Performing Arts

Beginners Mat certification in Pilates Mind2Body

Gravity Foundation course
Expertise:
Words of wisdom for clients: Stick with it! The only bad session is the one you didn't turn up for!

Favourite exercise: Anything involving legs.
Favourite place: At the dining table on a Sunday lunchtime with all the family.
Candy Barker instructs the following:
The Barre fusion programme is a combination of the traditional ballet barre exercises, used to warm up the muscles, and increase strength and flexibility, added to a standing workout, designed to elevate your heart rate as it tones the upper body, buttocks, legs and core. The combination will help to scuplt a well-toned body that is long, stong and lean! No previous ballet knowledge is required. Suitable for all fitness levels.




Pilates is a physical training regime based on the body in its natural state - motion! There are infinite styles and disciplines of Pilates. There have been minor changes to the Pilates method as science advances into the understanding of the human body. Despite these adaptations the brilliance and the simplicity of the system remains intact and available to everyone. Key benefits of Pilates are increased flexibility, core strength, improved posture, increased mobility, decreased back pain, improved circulation throughout the body and increased bone density.




There have been minor changes to the Pilates method as science advances into the understanding of the human body. Despite these adaptations the brilliance and the simplicity of the system remains intact and available to everyone. Key benefits of Pilates are increased flexibility, core strength, improved posture, increased mobility, decreased back pain, improved circulation throughout the body and increased bone density. This class will also use small pieces of equipment to make this a 21st century workout